Technically speaking Cat And Bat Running Adventure is a pretty bad android game. It fells more like a decent try of an unexperienced developer made in one of those game makers where you just need to swap few sprites and get a brand new Batman game. The weird title mentions 'cat' but I don't see any cats in here. Nope, Cat-woman is not there neither.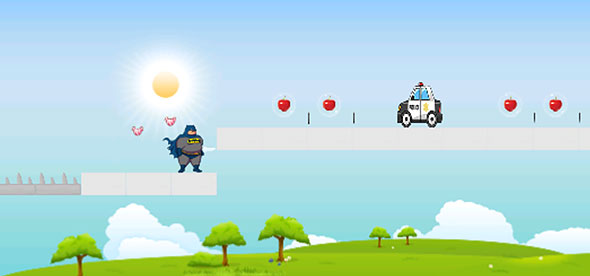 Regarding the gameplay it is pretty much standard for what you'd expect of a basic platformer with obstacles. There are no real animations, all the obstacles are pretty much static and the only thing you need to do is to tap on the screen to get Batman jump over the trees, bushes, police cars and sharp spikes sticking out of the platform.
So the game is about avoiding obstacles endlessly, untill we all fall down from exhaustion. You just tap tap and tap while Batman scrolls to the left and right on its own.
I've also noticed a failure with ads loading, so maybe I was lucky while you on the other hand might experience massive influx of google ads after finishing each level.
In the end, I can't cay it's the worse Batman game ever, far from that, but there's so much things to improve and if I were asked I would give it 2 stars out of 5.
Download game link:
https://play.google.com/store/apps/details?id=com.ay.catandbat
News comments
<! Report popup & overlay !>
batmin

(270) - 2016-07-10, 05:27

I will try to add more android games ... feel free to leave comments